Medicare Advantage Plans and the Grocery Plus Benefit
Attention Clover Health members: The Grocery Plus benefit will end on December 31, 2022. But we've got you covered in the new year! 
Starting January 1, 2023, with our exciting new Clover LiveHealthy Rewards program members will be able to earn reward dollars to spend on things such as groceries, transportation, and so much more.* Earn reward amounts up to $310 or $410 (depending on your plan) as you complete health-related activities, some that don't even require leaving the couch. For more information, contact Clover Health Member Services or visit our LiveHealthy Rewards Page.
We know how important nutritional health is to our members. A balanced diet can help you maintain a healthy weight, manage diabetes, and even give you more energy. That's why Clover Health is offering the Grocery Plus benefit to qualifying members.
*Excludes alcohol, tobacco, and firearms. Other limitations may apply. Please contact Clover Health for details.
What is the Grocery Plus Benefit?
The Grocery Plus benefit helps you shop a variety of healthy foods at participating grocery stores. This quarterly allowance, which is combined with your over-the-counter (OTC) allowance, helps you stretch your food budget and buy high-quality, healthy foods. If you qualify for the Grocery Plus benefit, you'll get a Healthy Benefits+ card you can use for all qualifying purchases. Qualifying members can use their quarterly allowance on groceries, OTC, or some of each.
What's Covered with Grocery Plus?
The Grocery Plus benefit covers hundreds of products to help you make healthy decisions when grocery shopping. These options include:
Fresh fruits
Fresh vegetables
Salad kits
Canned and frozen vegetables and fruits
Dairy products
Meats and seafood
Beans and legumes
Healthy grains like cereals, oats, rice, and pasta
Canned and frozen soups
Frozen produce
Frozen meals
Pantry staples like flour, sugar, and spices
Nutritional shakes and bars
Water and vitamin water
To find out if your grocery items are covered, log in to your Healthy Benefits+ account to view a full list of eligible products. You can also use the Healthy Benefits+ mobile app when you're shopping at the grocery store. Just scan an item to check if it qualifies.
What's Not Covered?
Not every item in participating stores is covered by the Grocery Plus benefit. Items not covered include:
Non-food items
Pet items
Baby formula
Candy
Chips
Desserts
Fresh baked goods
Soda
Tobacco
Alcohol
Coffee shop items
Where Can You Use the Grocery Plus Benefit?
Clover Health partners with grocery stores across the country, so you won't have to go far to find a grocery store that accepts your Healthy Benefits+ card.
Participating stores include:
ACME
CVS Duane Reade
Stop & Shop
Walgreens Walmart
Food Lion
Kroger
Participating stores vary by state. You can see if your local store accepts the Grocery Plus benefit using our store finder. Just enter your ZIP code to view all participating stores in your area.
How It Works
After you qualify for the Grocery Plus benefit, you will be able to use your quarterly allowance on both OTC and groceries. You'll receive your allowance on the first day of each quarter. Your allowance is automatically added to your Healthy Benefits+ card on January 1st, April 1st, July 1st, and October 1st.
If you don't spend the full balance every quarter, the balance will not carry over into the next quarter and you'll lose any remaining amount that's left on your card as the next quarter's allowance is added.
Paying with Your Card
Paying for groceries and OTC items with your allowance is easy. When you've finished selecting your items at the store, go through checkout. After the store clerk scans all your items, ask them to scan the barcode on the back of your Healthy Benefits+ card. Your balance is automatically applied to approved items.
Members who qualify for the Grocery Plus benefit will have the option of making grocery purchases online along with their OTC purchases.
Using the Benefit with Other Discounts
Stack your savings by using your Grocery Plus benefit with other coupons and discounts. After store discounts and sales have been applied, you can use your Healthy Benefits+ card to cover the rest of your covered groceries.
Are You Eligible for the Grocery Benefit?
There are just two eligibility criteria for the Grocery Plus benefit:
You must have a plan that offers the benefit
You must have a qualifying health condition (see below)
Qualifying Plan
The Grocery Plus benefit is offered with several Clover Health plans. Check your plan's Summary of Benefits to see if it includes Grocery Plus.
Qualifying Health Conditions
Some health conditions that qualify members for the Grocery Plus benefit include:
Cancer
Cardiovascular disease
Diabetes
Hypertension
Kidney disease
End-stage liver disease
Depression
Obesity
Arthritis
An autoimmune disorder
For a full list of qualifying conditions, or to find out if you're eligible for the Grocery Plus benefit, give us a call.
Learn More About the Grocery Plus Benefit
Many of our plans are adding the Grocery Plus benefit for qualifying members. Call Clover Health at 1-800-836-6890 (TTY/TDD 711) to speak to one of our plan specialists. We're available from 8 am to 8 pm local time, 7 days a week.*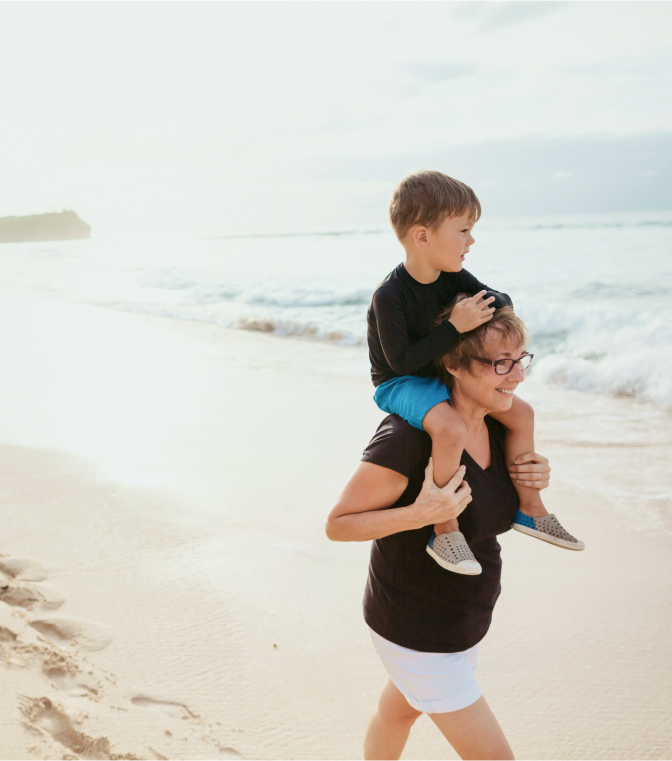 Let's find out if Clover is right for you.
We're available to talk 8am to 8pm, 7 days a week.*