Does Your Medicare Plan Cover Vision Services for Eye Health?
We know how important eye health is to you, which is why we want to explain how the different parts of Medicare address preventive vision care. We'll review which services are covered under the various Medicare plan offerings, and how Clover Health can provide the vision care benefits you need.
---
Vision Benefits with Medicare Parts A and B
When enrolling in Medicare, there are several options. Medicare Parts A and B are known as Original Medicare. Medicare Part A covers hospitalization, skilled nursing facility care, hospice care, and home health care. Medicare Part B takes care of routine stuff, such as doctor's appointments, some preventive services, occupational/physical therapies, durable medical equipment, outpatient care, and home health care. 
Medicare Supplement Insurance, otherwise known as Medigap, covers some or most of the costs that Original Medicare doesn't pay for. However, these plans come with extra monthly premiums. And while a vision plan is sometimes (not always) included, it is at an additional cost beyond the monthly premium.
Medicare Part B does cover some tests and treatment (such as for glaucoma or macular degeneration), but Original Medicare does not offer a comprehensive vision plan that includes routine eye exams, an allowance for eyeglasses or contacts, or other services considered not medically necessary. This is one reason many people choose a Medicare Advantage (Part C) plan.
Vision Services Covered Under Medicare Part C
Clover Health plans include everything that Original Medicare offers and more. Our plans offer supplemental vision benefits, prescription drug coverage, hearing, wellness, over-the-counter items, and dental—all with a $0 or low monthly premium. Unlike Original Medicare, Clover Health plans have low copays and an out-of-pocket maximum.  
Through our comprehensive eye coverage, here's what you'll get with a Clover Health plan: 
One routine vision exam per year
Yearly allowance for eyeglasses or contact lenses
Enter your ZIP code and we'll show you the plans available in your county and state in detail.
Vision-Related Prescription Drug Coverage (Medicare Part D)
Many Clover Health Medicare Advantage plans include prescription drug coverage (Part D)**. Some eye procedures may require you to take prescription medication for pain, inflammation, or to prevent infection. You may also be already taking medications for existing eye conditions. To check if your medication is covered or to find its tier, please refer to the Online formulary for your specific plan. Tiers (cost categories) determine the cost of prescriptions. However, many generic prescriptions start at a $0 copay when using in-network pharmacies. Clover Health's mail-order pharmacy services make it easier to get your prescriptions—without leaving home. To learn about the convenience and flexibility of utilizing CVS Caremark mail service pharmacy, please visit our Mail Order Pharmacy webpage. 
**Valor PPO plans do not include Medicare Part D coverage.
 
Why Vision Care Is Important for Seniors
As we get older, it's important to take an active role in protecting and maintaining eye health. Those who suffer from untreated eye problems are more likely to fall, be less independent, and experience reduced quality of life.
75 percent of Americans† use some form of vision correction. So, it makes sense that most Americans need vision care included in their Medicare plan. Comprehensive eye care plans can help prevent or correct many vision problems, such as:
Glaucoma 
Cataracts 
Diabetic eye disease 
Macular degeneration
Getting the Vision Care You Need as a Medicare Beneficiary
Vision is central to our everyday lives, which is why Clover Health Medicare Advantage plans offer comprehensive vision coverage. We treat you like a person, not a policy, and strive to make it easy for you to get the care you deserve. 
If you're ready for a Medicare plan that does more for your eye health, please call us at 1-800-836-6890 from 8 am to 8 pm local time, 7 days a week.* Or contact us using our online form and we'll get back to you. 
†The Vision Council of America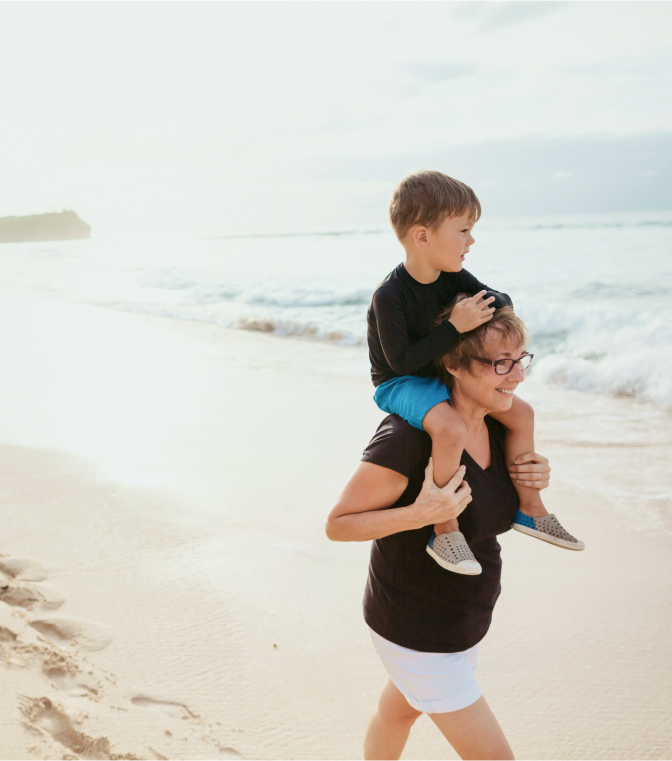 Let's find out if Clover is right for you.
We're available to talk 8am to 8pm, 7 days a week.*