Medicare Advantage Plans in Texas from Clover Health
We take Medicare coverage to the next level with a $0 premium and a cap on yearly out-of-pocket costs.
Enter your zip code to see Clover Health plans available in Texas.
Our Approach to Medicare Is Simple
Clover Health is a Medicare Advantage insurer focused on lowering your out-of-pocket healthcare costs, stretching your budget, and giving you great benefits and programs as part of every plan.
In Texas, Clover Health offers PPO Medicare Advantage plans in Atascosa, Bandera, Bexar, Comal, Guadalupe, Medina, and Wilson counties.
Our Medicare Advantage plans vs. Original Medicare in Texas
Original Medicare covers Part A, like hospitalization, and Part B, like doctor appointments. However, there is a Part A deductible, and it only covers 80% of your Part B expenses. You are responsible for the remaining 20%, which can add up.
Our Texas Medicare Advantage plans have many advantages over Original Medicare, such as:
Prescription drug coverage
Lower out-of-pocket expenses
$0 to low copays, so you know how much your care will cost you, if anything
Allowance for dental care, eyewear, and over-the-counter items
Great programs like SilverSneakers and LiveHealthy Rewards
Clover Health Medicare Advantage Benefits
In 2024, our Medicare Advantage plan give Texas residents some of the best benefits in the area, including:
$0 monthly plan premium
$0 copay for unlimited primary care visits
$20 copay for unlimited specialist visits†
$0 copay for many generic drugs, including shingles vaccine
$0 copay for outpatient lab services with Labcorp and Quest
$0 copay for preventive services
$0 copay for SilverSneakers® fitness membership
† In-network copay only. Out-of-network has a higher cost-share.
Supplemental benefits and programs in Texas
Our Clover Health Medicare Advantage plan in Texas offers supplemental benefits that are not included with Original Medicare.
Dental coverage, vision and hearing benefits
Our Texas plan includes preventive dental services plus an allowance for additional services. With Clover Health, you also get one routine vision exam per year, plus a yearly allowance for contacts or glasses. One annual routine hearing exam is also included in our Texas Medicare Advantage plans when you visit a TruHearing audiologist. Our plans also include coverage for hearing aids.
Easy and affordable prescriptions
With Clover Health you get the lowest possible out-of-pocket costs on prescriptions. We cover up to 100-day supplies of many medications for chronic conditions, which can help you spend less and take fewer trips to the pharmacy.
Find a complete list of drugs covered by any Clover Health plan at cloverhealth.com/formulary. You can go to any pharmacy in our network, but your costs for some drugs may be less at our network pharmacies, like CVS, Walgreens, Walmart, Costco, and many other pharmacy locations. Visit cloverhealth.com/find-pharmacy to find a network pharmacy near you.
Over-the-counter (OTC)
Our Texas plan includes an allowance for over-the-counter products like vitamins, aspirin, cold and flu medicines, digestive aids, and much more. In 2024, with our Texas Choice PPO plan, you get an allowance of $70 every quarter, or $280 per year to spend on OTC items.

Clover LiveHealthy Rewards program
It's simple: earn reward dollars by completing health-related activities.
After you complete qualifying activities that contribute to good health, we add reward dollars to your LiveHealthy Flex Plus Visa card. You can spend the reward dollars on almost any products or services!‡
‡ LiveHealthy reward dollars may not be used to purchase alcohol, tobacco products, or firearms. Not redeemable for cash. Other limitations may apply; please call Clover for details.

LiveHealthy Flex Plus Visa card
Your LiveHealthy rewards and OTC allowance are easy to use.
When you enroll in a Clover Health Medicare Advantage plan, you get a LiveHealthy Flex Plus Visa card. This card is used to spend both your LiveHealthy reward dollars and your OTC allowance.
You can check your balances in our easy-to-use member portal.
Easy access to a doctor with telehealth
Clover Health allows you to see your doctor from the comfort of your home. Our Medicare Advantage plans cover telehealth (video or phone) appointments. If your personal doctor isn't available, Clover Health can connect you with a doctor or nurse practitioner via video or phone.
Fitness membership
Every Clover Health Medicare Advantage plan includes a SilverSneakers® membership. You get access to over 15,000 fitness locations nationwide as well as on-demand video exercise and nutrition classes, outdoor activities, and more.
Why Clover Health Medicare Advantage for Texas?
Clover Health wants to help you be as healthy and worry free as possible. Take advantage of all the wonderful benefits, programs, and savings available with a Clover Health Medicare Advantage plan. We can't wait to have you as a member!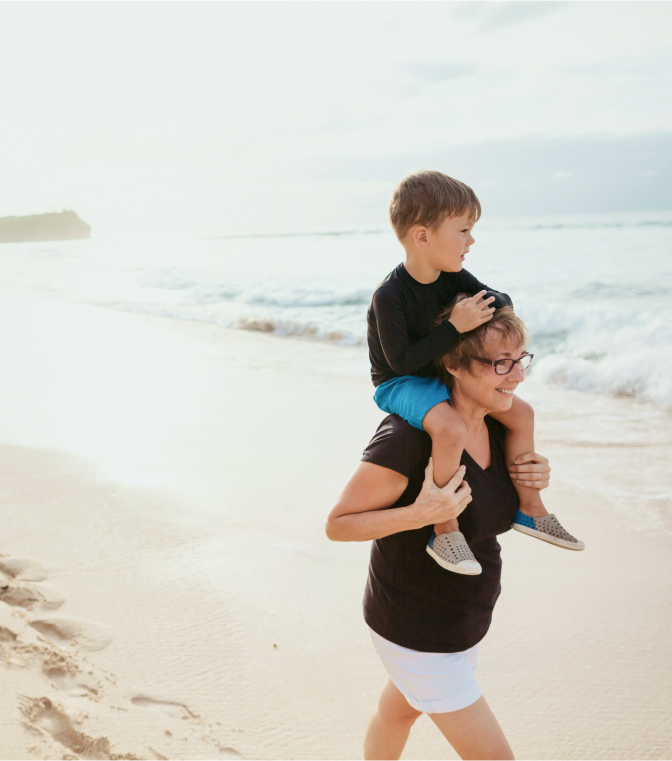 Let's find out if Clover is right for you.
We're available to talk 8am to 8pm, 7 days a week.*