Medicare Advantage Plan in Mississippi from Clover Health
Important Please Read!! Clover Health will no longer offer Medicare Advantage plans in Mississippi in 2024. This means your coverage through Clover Health will end December 31, 2023. You need to make some decisions about your Medicare coverage. It is important you take action before December 31, or you will lose your prescription drug coverage and only have Original Medicare starting January 1, 2024.
Enter your zip code to see Clover Health plans available Mississippi.
Clover Health Medicare Advantage Plans in Mississippi
At Clover Health, our approach to Medicare is simple. We're a Medicare Advantage provider focused on lowering your out-of-pocket healthcare costs, stretching your budget, giving you the freedom to choose the doctor you want, and even giving you yearly allowances for dental care, eyewear, and over-the-counter items.
In Mississippi, Clover Health offers PPO Medicare Advantage plans in Hinds, Madison, Rankin, Warren, and Yazoo counties.
Our Medicare Advantage plans vs. Original Medicare in Mississippi
Original Medicare covers Part A, like hospitalization, and Part B, like doctor appointments. However, there is a Part A deductible, and it only covers 80% of your Part B expenses. You are responsible for the remaining 20%, which can add up.
Our Mississippi Medicare Advantage plans have many advantages over Original Medicare, such as:
Prescription drug coverage.
Lower out-of-pocket expenses, which is great for managing your budget
$0/low copays, so you know how much it will cost to see a doctor or be admitted to a hospital.
Allowances for dental care, eyewear, and over-the-counter items, which means you keep more money in your pocket.
SilverSneakers® fitness program, which includes a gym membership and on-demand video classes.
Clover Health Medicare Advantage Benefits
The Clover Health Medicare Advantage plans with prescription drug coverage gives Mississippi County residents some of the best benefits in the area, including:
$0 to low monthly plan premium
$0 copay for unlimited primary care visits
$5 to $35 for unlimited specialist visits
$0 copay for many generic drugs, including shingles vaccine
$0 to $10 copay for outpatient lab services**
$0 copay for preventive services
$0 copay for SilverSneakers® fitness membership
When you're a Clover Health member, your copays for urgent care, emergency care, inpatient hospital stays, outpatient surgery, ambulance services, and prescription costs are reasonable and affordable.
**In-network copay only. Out-of-network has a higher cost share.
Supplemental benefits and programs in Mississippi
Another advantage of the Clover Health plans in Mississippi is that we offer supplemental benefits not offered with Original Medicare.
Dental, vision, and hearing
Clover Health plans cover important dental, vision, and hearing services to support your wellness. Mississippi members get routine dental exams, cleanings, an annual x-ray, and comprehensive dental coverage with up to a $2,000 yearly allowance for dentures, crowns, fillings, and other dental services.
With Clover Health, you also get one routine vision exam per year, plus up to $200 yearly allowance for routine contacts or glasses. One annual routine hearing exam is also included with a $0 copay in our Mississippi Medicare Advantage plan when you visit a TruHearing audiologist, along with hearing aids with affordable copays.

Over-the-counter items
Our Mississippi plans also include an allowance for frequently used over-the-counter products like vitamins, aspirin, cold and flu medicines, digestive aids, and much more. 
Mississippi LiveHealthy PPO plan members receive $45 every quarter, or $180 a year, to spend on these items which helps keep more money in your pocket. Benefits vary by plan.
Easy access to a doctor
In addition to visiting your doctor's office, you can now see your doctor from the comfort of your home. Clover Health Medicare Advantage plans provide a telehealth solution to all doctors so they can offer video or phone appointments. If your personal doctor isn't available, Clover Health can connect you with a doctor or nurse practitioner via video or phone.
Fitness memberships
Staying fit and active is much easier when you have the Clover Health Medicare Advantage plan, which includes a SilverSneakers® membership. Sign up for the Clover Health plan and you'll have access to over 16,000 fitness centers nationwide as well as on-demand video fitness and nutrition classes through SilverSneakers®.
Convenient prescriptions
Unlike Original Medicare, many of Clover's Medicare Advantage plans offer prescription drug coverage. Clover gives you the very lowest copays on prescriptions, including many chronic medications. We allow extended (up to 100-day) supplies, which is convenient and may be easier on your wallet. Find a complete list of drugs covered by your Clover plan at cloverhealth.com/formulary. You can go to any pharmacy in our network, but your costs for some drugs may be less at our preferred pharmacies, like CVS, Walgreens, Walmart, Costco, and many other pharmacy locations. Visit cloverhealth.com/find-pharmacy to find a preferred pharmacy near you.
Medicare Part D Insulin Coverage
Important Message About What You Pay for Insulin - You won't pay more than $35 for a one-month supply of each insulin product covered by our plan, no matter what cost-sharing tier it's on, even if you haven't paid your deductible (if applicable).
In addition for 2023, our LiveHealthy PPO plan includes our Insulin Savings Program, where members with diabetes will have predictable copays for insulin. Members in the program may pay $35/month for covered select insulins with no deductible. This will help you save about $325 in out-of-pocket costs for the year.
Clover LiveHealthy Rewards Program
You do healthy things, we give you rewards.
Lots of them.
With our LiveHealthy Rewards, it pays to be healthy! We give you reward dollars just for doing some easy health-related tasks! 
When you enroll in your Clover Medicare Advantage plan, you get a LiveHealthy Flex Plus Visa card. Then, we add reward dollars to your card as you complete each task.
LiveHealthy Flex Plus Visa Card
Your rewards and OTC dollars are easy to use.
Your LiveHealthy Flex Plus Visa card will contain both your rewards and OTC funds. You can use your OTC benefits at a number of approved locations. And you can spend your reward dollars on just about any products or services! †
†LiveHealthy reward dollars may not be used to purchase alcohol, tobacco products, or firearms. Not redeemable for cash. Other limitations may apply; please call Clover for details.
Why Clover Health Medicare Advantage for Mississippi?
Most Mississippi residents are looking to lower their out-of-pocket healthcare costs, stretch their budget, have the freedom to choose their doctor, and even have yearly allowances for dental care, eyewear, and over-the-counter items. Clover Health's Medicare Advantage plans can help you get all that and more.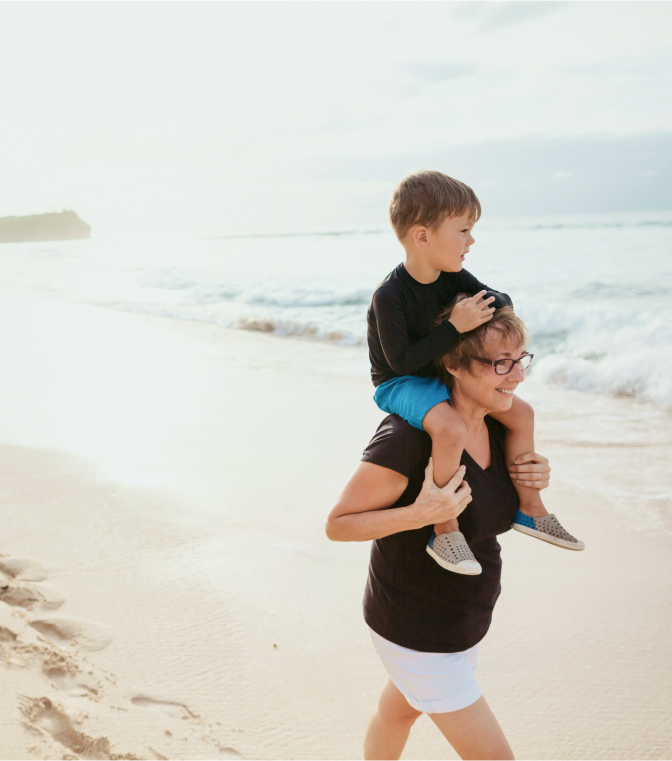 Let's find out if Clover is right for you.
We're available to talk 8am to 8pm, 7 days a week.*