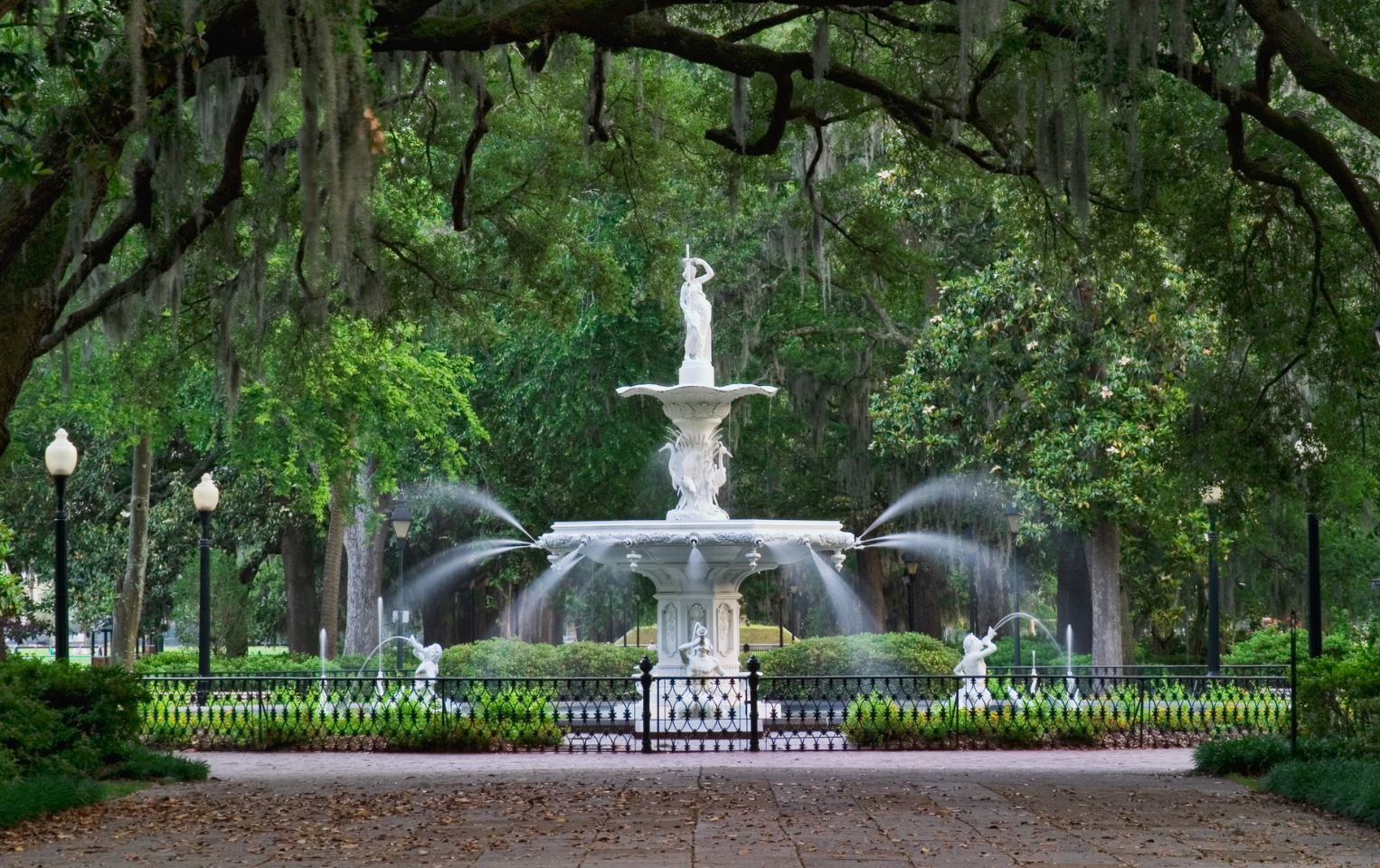 Travel Guide: Savannah, Georgia
Looking for things to do in Savannah? Here's our tourist guide to explore Georgia's oldest port city.
Historic architecture, art, southern hospitality, and a dose of ghostly vibes are just a few of the draws of scenic Savannah. Museums, parks, and restaurants are accessible by foot, bike, or trolley—all within a 3-mile radius. Plus, the state's mild winters mean it's a great time to score deals on hotels or rentals. 
Where to Eat in Savannah
All are welcome—including vegans and vegetarians—at this casual restaurant with an eclectic menu. Enjoy locally sourced seafood, fresh salads, tacos, or burgers. 
Things to See in Savannah
Situated in the Historic District, this park is Savannah's largest and oldest. The sprawling expanse is great for a stroll or a round of tennis. 
Cathedral of St. John the Baptist
Take a self-guided or docent-led tour inside this iconic feature of Savannah's skyline. Home to 34 murals, the interior is just as breathtaking.
Reserve tickets to tour the setting of the haunting novel Midnight in the Garden of Good and Evil, steps away from the fountain at Forsyth Park.
Located in Tricentennial Park—a 25-acre museum complex in downtown Savannah—this train lover's paradise is the perfect place to take a grandchild. 
Things to Do in Savannah
Give your feet a break in retro streetcar style! Hop on and off at the 15 stops all day. 
Hop a free ferry across the Savannah River to enjoy waterfront views of the city. Visit the Westin for a round of golf or a spa treatment.
Let's Ride: Biking around Savannah
Savannah's charm, typically mild weather, and flat terrain make it ideal for biking. Explore the city on your own or pedal along with a tour for sightseeing with a side of low-impact exercise. 
Tip: Planning to travel this season? Protect yourself and folks around you by being fully vaccinated against COVID-19 and the flu. 
This article was originally published in the Winter 2022 issue of Clover Living magazine. Want to see more articles like this? Subscribe to Clover Living magazine for free (if you aren't already subscribed) here.
This article was medically reviewed by Dr. Kumar Dharmarajan
Published on 6/23/22
Illustration by Sarah Mulvanny