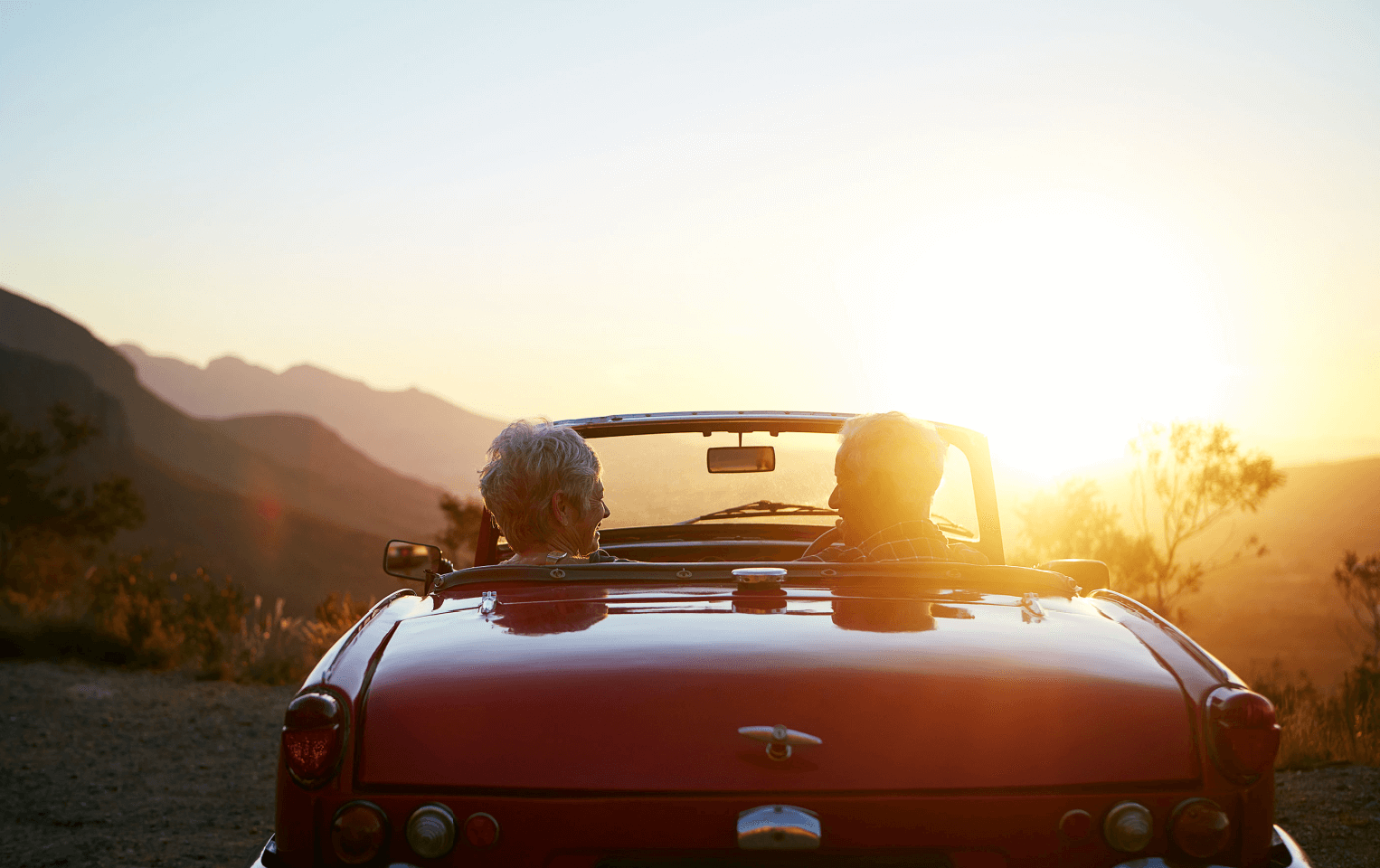 Hit the Road! Guide to Taking a Short Day Trip
Short road trips can lift your spirits and give you new perspective.
After more than a year of being cooped up, a change of scenery—even a stroll in a park a few towns away—can do wonders for your health, both mental and physical. "Day trips are a great idea, especially if you're spending time outside. Sunshine and fresh air are so good for the mood," says Kumar Dharmarajan, MD, MBA, cardiologist, geriatrician, and Chief Scientific Officer at Clover Health.
Whether you're headed out to see much-missed family, taking a leisurely drive, or visiting the beach, experts say planning ahead will go a long way toward keeping you safe. Take it slow, be prepared, and don't forget to pack plenty of patience and positivity!
Ready to venture forth? Follow these six tips to help your outing go smoothly.
1. Dine Smart
The CDC says eating indoors is still risky business. To minimize exposure, opt for open-air dining or grab takeout. A cooler full of sandwiches, prepared vegetables and fruits, and snacks lets you take advantage of a pretty spot along the way for an impromptu picnic. Whenever possible, skip busy highway rest stops during peak times (around meals). Instead, plan your breaks for off-hours. To find restaurants with outdoor seating nearby, you might check online— opentable.com, yelp.com, or travel websites like trippy.com and roadfood.com. 
2. Sleep Safe
Most major hotel chains, as well as Airbnb, have implemented new COVID-19 standards that may include things like leaving a room vacant for a few days between guests and hospital-grade disinfecting protocols.
Call ahead or visit the property's website to check mask requirements, occupancy limits, and cleaning procedures.
For added peace of mind, bring disinfecting wipes to clean surfaces and avoid crowded hotels. Pack zipper plastic storage bags, and drop the TV remote into one before channel surfing. (Those devices are notoriously hard to clean.)
Remember to wash your hands thoroughly after you've given the room a sanitizing once-over.
Bring your own refillable coffee mug and water bottle for drinks, and avoid the ice bucket, advises Katia Harvie, who has traveled the world as an independent consultant working with major hotel chains to evaluate customer experiences. "Common culprits for cleanliness violations are glassware, linens, and surfaces, but the most overlooked item is the ice bucket," she says. "It rarely gets a deep clean; I have found dust on many occasions."
3. Stay Connected
Before you head out, use your smartphone to download directions to your destination—just in case you hit a cellphone service dead spot. Don't forget to share your itinerary with family members and friends.
4. Pack Right
In addition to clothes and important medications, bring paper towels, toilet paper, and of course, plenty of masks, hand sanitizer, and disinfecting wipes. (Read the package to make sure you buy the kind that says it kills the COVID-19 virus. Use a disinfectant product from this EPA List of products that kill coronavirus.) A travel thermometer is another smart choice if you're planning to be away for more than a few days.
5. Sun Smarts
Planning to spend time in the sun? Bring lightweight, loose-fitting clothes and sunscreen that's at least 30 SPF. The Environmental Working Group, a nonprofit focused on protecting human health and the environment, recommends choosing sunscreen with the active ingredients zinc oxide and/or titanium dioxide, which form a physical barrier to protect your skin.
Try to stay in the shade from noon to 4 p.m. when the sunlight is strongest. Harmful UV rays can reflect off the sidewalk, grass, water, and other surfaces, so it's important to wear sunscreen even in the shade. Our skin gets more fragile and vulnerable to the sun as we age—and certain medications increase sun sensitivity.
In fact, most skin cancers are found in people aged 65 and older. But fewer than half of seniors protect their skin from the sun when outside for an hour or more, according to the CDC. Your risk of heat-related illness also increases after age 65, according to the CDC, so stay hydrated and be aware of the temperature and heat index (the combination of heat and humidity). Humidity makes it harder for sweat to evaporate, which means your body can't cool itself as effectively.
6. Try a Podcast
With a free app (such as Apple Podcasts or Google Play), every smartphone can play podcasts—audio programs that you can listen to on the go. From current events to long-form stories, there are more than half a million options available, so there is something for everyone. Turn back the clock with Lux Radio Theatre, which features recordings from the golden age of wireless with stars like Clark Gable and Marlene Dietrich performing. Catch up on your historical knowledge with the Stuff You Missed in History Class podcast. Or, if you're bringing grandkids, try Eleanor Amplified, which follows the exploits of a reporter turned crime fighter. It'll keep the whole family laughing. But no matter how much fun you're having, be sure to limit the number of hours you drive and take frequent breaks to avoid driving while tired. Enjoy the journey.
How to Get Updates on Travel Restrictions
The Centers for Disease Control and Prevention (CDC)'s website provides links to state and local restrictions. Search by city, state, or ZIP code. You can also call the CDC at 800-CDC-INFO (800-232- 4636) for answers to questions in English and Spanish, Monday to Friday from 8 a.m. to 8 p.m. EST.
The American Automobile Association (AAA) provides a free online COVID-19 Travel Restrictions Map that's updated frequently with state-by-state mandates and information on confirmed cases.
Scenic Drives
For the first time in more than a decade, the Federal Highway Administration added 49 new routes to its America's Byways® collection, which celebrates roads for their archeological, cultural, recreational, and scenic significance.
There are more than 184 byways to explore in 48 states, including the Pine Barrens Byway in New Jersey, which offers both historic sites and natural beauty. There's also historic Route 66, which rolls past iconic motels and restaurants from Illinois to California.
Popular attractions may be subject to capacity limits or altered schedules. Arrive early or find out if you can reserve a slot in advance. Download the free list of America's Byways Designations here.
Editors' Note: Most readers who chose to be vaccinated will have received their vaccines by now. However, every person has different risk factors. For the best guidance for your specific situation and travel plans, as well as for those who have not been vaccinated, consult your physician or the Centers for Disease Control and Prevention (CDC).
Before You Go: Trip Tips
Use Public Transit Safely
If you rely on public transit, the CDC suggests traveling during non-peak hours, when there are likely to be fewer people. Also, try to leave an empty row between groups where possible. Be sure to follow proper hand hygiene, and don't eat on a bus or train. If you're using Uber or taking a taxi, avoid shared rides with people who are not in your household, and don't get into any vehicle where people are not masked. Ask for the windows to be open or air to be circulated from outside the car.
Check Your Car Before You Leave
If you're driving, giving your car a once-over before hitting the road is just as important as getting directions. "Preventive maintenance is essential for safe driving and greatly decreases the chances of being stranded," says Ellen Edmonds, a spokesperson for AAA, a membership and advocacy organization for drivers. Whether you do it yourself or go to a repair shop you trust, AAA recommends the following:
Diagnose any "check engine" light.
Test your battery, particularly if it's more than three years old.
Replace windshield wiper blades that leave streaks or miss spots.
Check all fluids and brakes. Inspect the tires. If there's less than 4/32"of tread, you will have reduced traction in wet conditions. Check the tire pressure before driving, too, when tires are cold.
Keep the Right Things In Your Car
In addition to keeping up on scheduled maintenance, AAA suggests stocking your car with these safety items:
Cellphone and car charger
Flashlight with extra batteries
Jumper cables or jump pack
Basic tool kit (screwdrivers, pliers, adjustable wrench, duct tape, plastic zip ties)
Tarp, raincoat, and gloves to help you stay clean and dry working on the roadside
Rags, paper towels, or pre-moistened wipes
Warning devices (flares, reflective triangles, LED beacons)
First aid kit
Drinking water
Snacks for passengers and pets
Windshield-washer solvent
This article was originally published in the Summer 2021 issue of Clover Living magazine.
Published on 6/10/21
Photo credit: Getty